Extech Awards Scholarships to Waltham High School Seniors in Electronics and Electrical Studies
Related Links

Download this press release as an MSWord document and related images (1.07 MB ZIP)

Newswire version
---
(Waltham, MA, USA) Extech Instruments, (www.extech.com), makers of the world's best test and measurement tools, is pleased to announce we have awarded two scholarships to class of 2010 seniors at Waltham High School. The two graduating seniors received the Extech Instruments Award Scholarship which is presented to outstanding students in the Vocational Electronics and Electrical programs. This year's recipients are Nicholas Benoit (electronics studies) and Peter Dennison (electrical studies). Each student also received an Extech EX505 Industrial Multimeter and IR250 Laser Infrared Thermometer. The awards were presented at the high school's scholarship and awards night held Thursday, June 3rd at 7:00 p.m.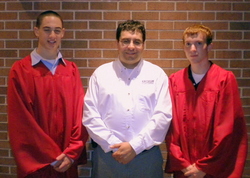 Award Recipients N. Benoit and P. Dennison.
Arpineh Mullaney, Extech vice president spoke about the awards, "As part of the FLIR Systems family, Extech has been able to support a number of local programs with a Waltham-based giving program. We're pleased to once again include our scholarship program at Waltham High School among the recipients. At Extech, we recognize the growing urgency for training young men and women in the United States to pursue studies in the electrical and electronics fields. We hope that our scholarships not only aid Mr. Benoit and Mr. Dennison in achieving their studies but also serve to recognize their success as students at Waltham High School. We wish them the best of luck in their studies and professional pursuits."
As part of the FLIR mission, FLIR believes that it is our responsibility to support our countries and our communities. In addition to our Corporate Charitable Giving Program, each of our locations supports various local community initiatives as well as contributes to national and international disaster relief efforts. It is another way we make a difference in our world.

About Extech Instruments, a FLIR Company
Extech Instruments is recognized as the source for the best handheld test and measurement tools worldwide. Founded in 1971, Extech is known for its depth and breadth of innovative testers and meters suited for electrical, HVAC, building/restoration, as well as a host of environmental testers for measurement of sound, light, humidity and other factors. All Extech meters are distributed worldwide through leading representatives, distributors and OEMs. The company is headquartered in Waltham, Massachusetts, USA and is ISO 9001 2000 certified. Extech is a wholly owned subsidiary of FLIR Systems, Inc.
---
Related Links

Download this press release as an MSWord document and related images (1.07 MB ZIP)

Newswire version
Contact:
André Rebelo
Global PR Manager
Extech Instruments, a FLIR Company
781-434-3901
andre.rebelo@extech.com